Launching a book is an exhilarating moment for writers. However, a successful book launch requires careful planning and strategic marketing to reach the right audience and generate buzz. In this blog post, we will explore effective book launch strategies and provide valuable marketing tips to help writers maximize their book's exposure and increase their chances of success.
Build up hype before the book launches
Start generating buzz for your book before its release. Create anticipation by sharing teasers, excerpts, and behind-the-scenes content on social media. Offer exclusive sneak peeks to your email subscribers and engage with potential readers through Q&A sessions or live events. Building pre-launch excitement can significantly boost interest and anticipation for your book. A few examples of things you can share on social media to generate buzz:
The first sentence of the book.
A video of your cover reveal.
Where you got the idea for the book from.
Your favourite writing spot.
Ask people to pre-order the book or save it on audio book apps.
A great way to reach more people is to organise a virtual event. By doing this you can to connect with readers around the world and are no longer limited to readers in you city or country. Host virtual book readings, Q&A sessions, or even online launch parties. Utilize platforms like Zoom, Facebook Live, or Instagram Live, TikTok Live or Youtube Live to interact directly with your audience and make your book launch a memorable experience.
Ask people for help
When your book is finally out in the world, don't be afraid to ask people to help you spread the word. Leverage your existing network of friends, family, and colleagues to create a strong foundation for your book launch. Encourage them to spread the word and share information about your book on their social media platforms. Additionally, consider reaching out to other authors, influencers, or industry professionals who may be interested in supporting your launch. If you help supporting other authors when they launch new books they might be more inclined to help you reach more readers.
Book bloggers and reviewers can be invaluable allies during your book launch. Research and reach out to bloggers who specialize in your genre or niche and offer them a complimentary copy of your book in exchange for an honest review or feature. Positive reviews and endorsements from respected bloggers can enhance your book's credibility and reach a wider audience.
Collaborating with influencers or partnering with local bookstores can expand your reach and attract new readers. Seek opportunities to collaborate on social media campaigns, giveaways, or joint events. Additionally, consider hosting book signings or virtual author talks at local bookstores to connect directly with your target audience and establish a local presence.
Use Paid Marketing to Reach a Wider Audience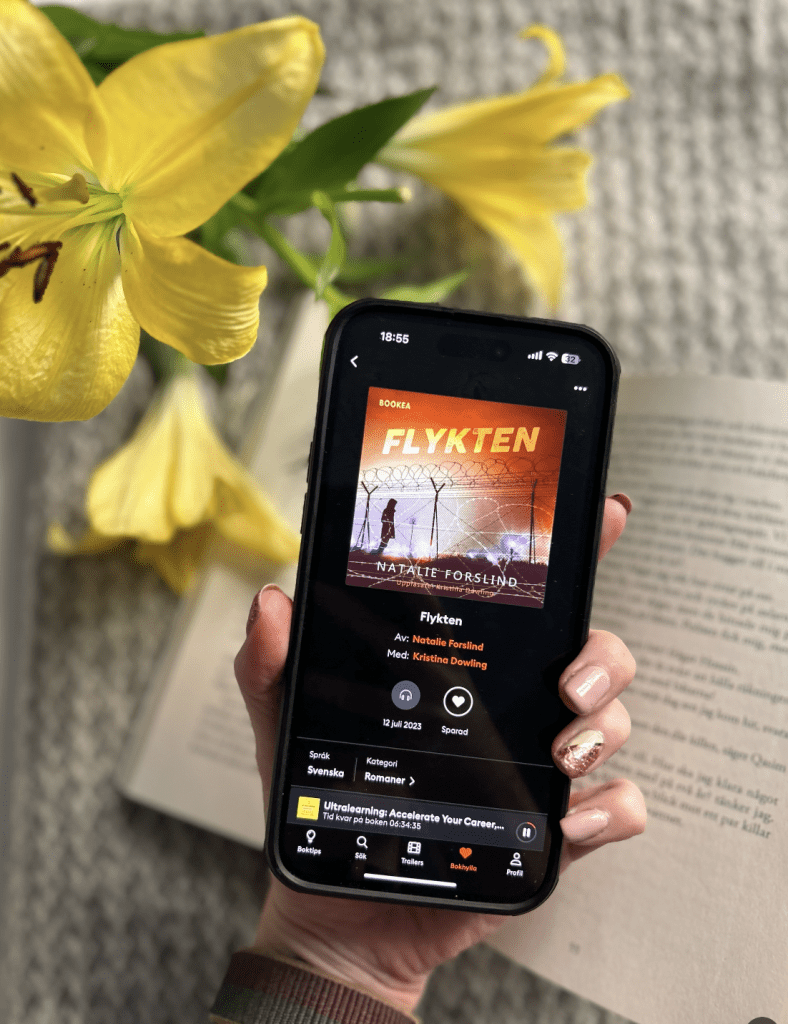 Explore book promotion websites and platforms that can help increase your book's visibility. Websites like BookBub, Goodreads, and Amazon Author Central offer promotional opportunities and advertising options that can reach a wide audience of avid readers.
Use paid social to reach bookstagrammers and people who love books. You can either boost posts about your book or create campaigns in ads manager. I did this for my book launch and it really helped me reach a wider audience. (I used the photo to the left to market my audiobook.)
A successful book launch is the result of careful planning and effective marketing strategies. By building pre-launch hype, leveraging your network, utilizing social media platforms and promoting you book can generate excitement that drives book sales. Remember, a well-executed book launch strategy can significantly increase your book's chances of success.