Taupo or Great Lake Taupo as it is more known as is a town placed in the center of the north island of New Zealand. It is a city known for a lake who was created from one of the largest volcanic eruptions in human history. Along with the lake there are waterfalls, volcanic activity, excellent hiking and activities that makes your adrenaline go pumping.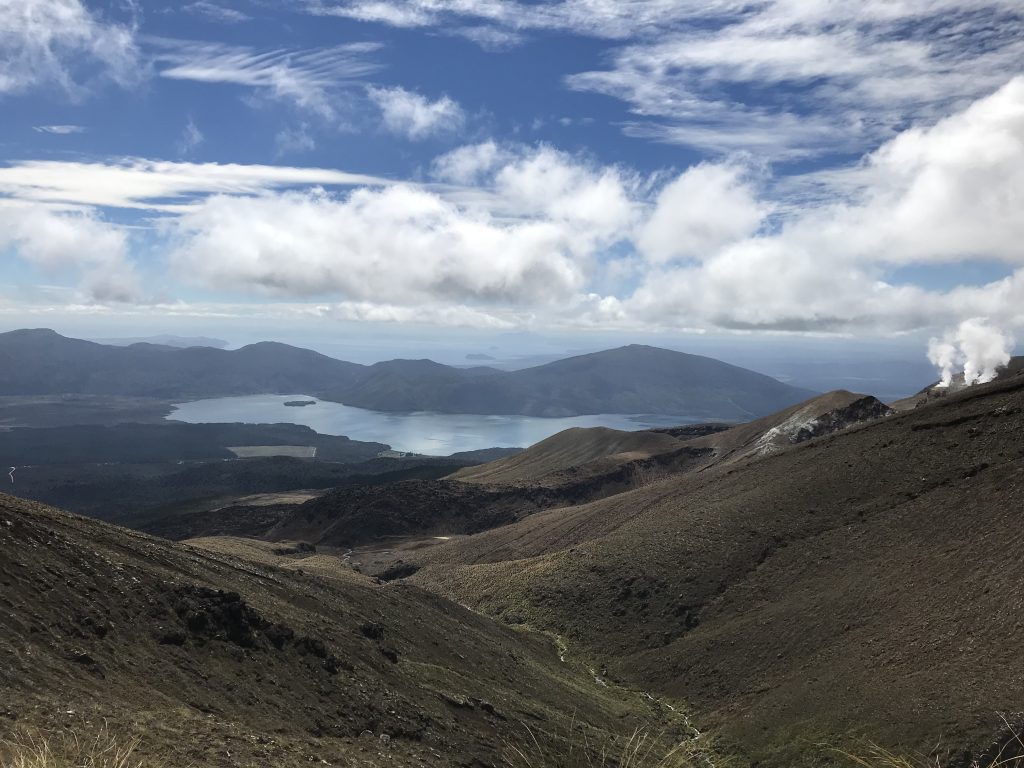 Tongariro Alpine Crossing
I tug on the shoulder straps of my backpack to get it higher on my back, the sound of the oversized water bottle reminds me that it is time for a break. My hand slides over my damp forehead as I apply another layer of sunscreen. The sun is slowly making its way up as we are walking along Mount Tongariro. My long legged friend steps, almost effortlessly, up along the steps made of dirt, wood and stone. A sign on the side of the path sends a warning that the climb ahead will be rough and all below medium fitness level should turn around. To our right Mount Ngauruhoe, more known as Mount Doom from Lord of the Rings makes a striking contrast against the bright blue sky. With its dark ashy grey and spots of white and red.
After a long uphill climb we reach a crater, our legs get a well deserved time to rest as we go downhill towards the middle of the crater. When we reach the other side we have the highest climb yet in front of us, up to the edge of the red crater. With stubbornness more than anything else I continue the climb. Halfway to the top we stop to snap pictures of Mount Ngauruhoe –Mount Doom –. My long legged friend glances towards it in awe, wishing he could have climbed it.
We keep going upwards, my legs are screaming for a rest but we keep going. As we get to the top we can see the ground that we already covered. Below us the ruby red crater runs deep. In the distance we can see thick white streams of hot steam rising from the ground, a smell of sulfur follows the breeze and comes in waves where we are standing. This reminding us that it is an active volcanic area we are experiencing.
Ahead of us lies a steep downhill, for the first time there is no path to follow. The hikers in front of us are carefully sliding down the slope that is more gravel and sand than actual ground. At the bottom of the slope there are three small lakes, called The Emerald Lakes. Two of them has an intense emerald green color and the third a dark blue edge and a middle of turquoise blue. From The Emerald Lakes a winding path follows and disappeared into another valley.
Tongariro Alpine Crossing is a path of 19.4 kilometers. It start out in Mangatepopo valley, continues along a slow uphill slope between Mount Tongariro and Mount Ngauruhoe. A slope down through the southern crater is followed by the climb to the highest point, the red crater, 1886 meters above sea level. On the way down you pass three smaller lakes and then a third larger one, the blue lake. A long downhill along the north side of Tongariro leads to Ketetahi Shelter and then continues down to the main road.
Due to the maori culture and for safety reasons it is no longer deemed appropriate to climb Mount Ngauruhoe. Unlike the path over Tongariro, the sides of Mount Ngauruhoe is made out of rocks and it would be a safety hazard to climb it. In addition to that, Mount Ngauruhoe is also a holy place for the maori culture.
The Tongariro Alpine Crossing is a popular attraction both for international tourists and locals. Many companies arrange shuttle buses from Taupo. A scenic route along Lake Taupo takes you to Mangatepopo valley. From there the hikers continue their journey on foot. Once they reach the other side they get picked up by the same company.
AdventureHQ is one of many companies who provide this service. Their shuttle service is active from the middle of October to the end of May. They made a decision to not shuttle during the New Zealand winter. During the winter the mountains are covered with ice and snow and without a guide it is too much of a risk for amateurs to climb.
Deb, one of the owners in the company explains that during the summer their biggest issue is over ambitious visitors who are not aware of what they are getting themselves into.
– It is very important to be prepared and aware of what you are getting yourself into. These are actual mountains that you climb and even the downhill can be very steep and hard to manage. You have to be aware of your own limits.
She explains that it is very hard for them to estimate whom is capable to do the climb, and some do not fully realize the extent of it until they find themselves somewhere in the middle. In her experience age does not matter, many times they have had visitors in their 70s who have blown past 20 year olds. The key to handle the climb is to know what to bring with you.
– You need good shoes; it does not have to be hiking boots. If you have comfortable trainers that is good enough. The weather can be very fickle at the top so you need to dress with layers and preferably with one wind proof item. Hat is recommended both for the sun and for keeping warm. We also recommend at least 1.5 liters of water and plenty of sunscreen!
Deb herself have made the climb many times.
– I always feel happy and proud when I reach the top. If I had the time I would do it at least once a week. There is no getting used to how beautiful it is and I highly recommend doing it.
For the visitors who may not be fit enough for the Tongariro Alpine Crossing AdventureHQ also provide shuttles to two other beautiful walks around the same area.