I walked Camino Primitivo with my friend Michaela. We had two weeks to walk 356 kilometers and no experience of hiking. Here is a beginners guide to Camino Primitivo that I wish we would have read before.
Preparations:
Plan your trip – How long do you plan to walk each day? How long to you have to walk to make it to Santiago the Compostella in time?
Buen Camino app – I downloaded the Buen Camino app to help us plan the stages of our journey. The app has a Pilgrims guide, Index of locations, plan you daily stages feature and if you buy the route you plan to walk there is information about Albergues (Pilgrim Hostels), shops and so on. I really found this app helpful.
Hiking boots – Walk as much as you possibly can before the trip. Both to walk in your hiking boots and to prepare your body for walking all day long.
Backpack – I read somewhere that your backpack, when you have you daily 1,5 – 2 liters of water in it, should not weigh more then 10% of your body weight. I think this is a really good guideline, mine weighed around six kilo starting of. At the end I had gotten rid of quite a few unnecessary things and it only weighed around five. Make sure to have an ergonomic backpack with straps that releave your shoulders.
Pilgrim's Passport – We order ours online before the journey. You don't have to do this, but we found it convenient. E-mail: peregrinos@archicompostela.org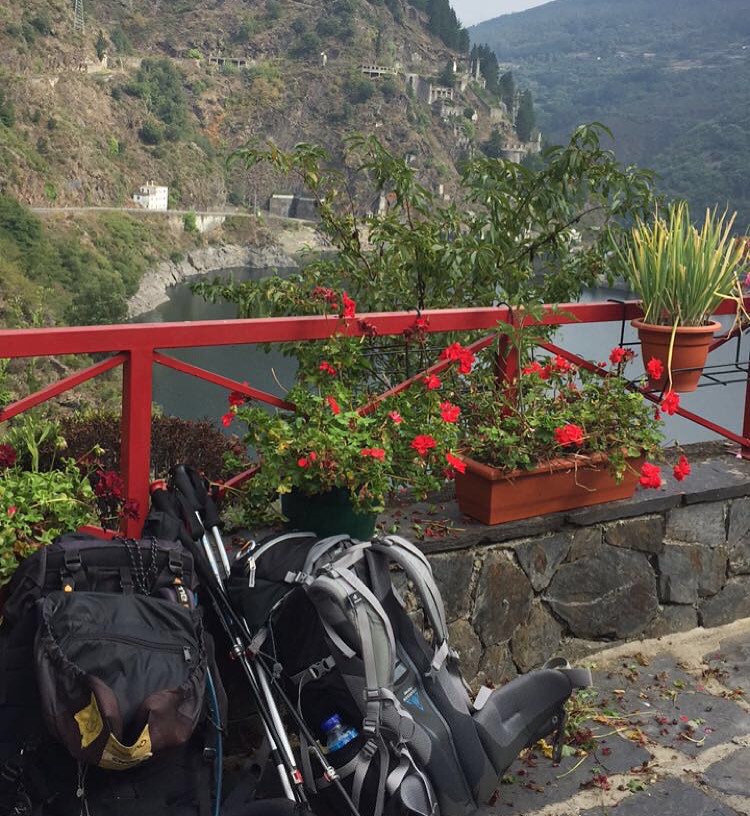 Our route
Oviedo -Gardo 33 km, 44 013 steps.
Learnings:
Start walking as early as posslible. We got quite a late start because we wanted to wait for the Cathedral of Oviedo to open and get our passes stamped. The Cathedral is magnificent, but waiting til after 10 am was not worth it.
Load up on snacks! We did not bring much in the way of snacks, which was stupid since the road was remote, passning through small villiges and it was hard to find a place to eat. When we got to Gardo it was quite late, all albergues where full and to get to the next village with an albuerge we would have to walk 6 km up a mountain. We ended up taking a taxi and called in advance to see that they had room and that they served dinner.
Stayed at: Albergue de Pelegrinos de Cabrunana
San Juan/ Cubrunana – Salas 26 km, 33 541 steps.
Learnings:
Refill water every chance you get and try and save the water that you have. Along the Camino there are these water fountains. On the way to Salas there was one where we stoped to rest and refill water. Even if it didn't taste great it is better than dehydration.
Stayed at: Albergue de San Miguel
Salas – Tieno 26 km, 33 618 steps.
Stayed at: Palacio de Meras

Tieno – Pola de Allande 21 km, 26 852 steps
Pola de Allande – Berducedo, 25 km, 31 971 steps
Berducedo – Grandas de Salime ,30 km, 38 005 steps
Grandas de Salime – A Fonsagrada, 37 km, 46 932 steps
A Fonsagrada – O Cadavo 33 km, 41 151 steps
O Cadavo – Lugo 38 km, 47 995 steps
Stayed at: Alberuge de los Pelegrinos

Lugo – Rest day ( 8 km, 11 600 steps)
We stayed day in Lugo to rest and discover the city with friends we made along the journey.

Lugo – Ferreira, 30 km, 38 358 steps
Stayed at: A Nave de Ferreira Hostel
Ferreira – Boente, 29 km, 36 843 steps
Learnings:
This is the point where Camino Primitivo meets Camino Frances and there where pilgrims as long as the eyes could see. It was a little bit of a chock seeing so much people after walking and only bumping in to people every now and again. Finding places to stay was harder with so many pilgrims.
Boente – Brea, 25 km, 31 820 steps
Stayed at: The Way Boarding House

Brea – Santiago de Compostela, 32 km, 41 284 steps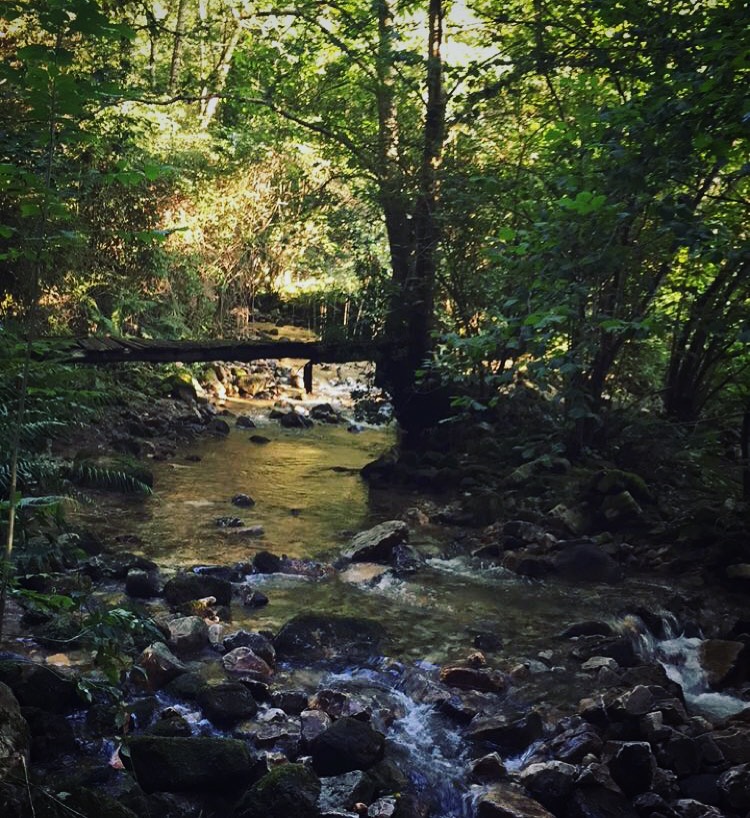 Good to know:
Every app and map shows different when it comes to how many kilometers it is between different towns. A road sign may say 20 kilometers and it turns out it is 25 or 17. My count is from my Apple Watch.
Being a vegerarian/pescatarian on the Camino is challenging. A lot of resturants did not have vegetarian or fish as alternatives, so finding food were challenging at times. I made sure to always carry a bag of nuts and musli bars with me.
Finding albergues or hostels was not hard. We only pre-booked places to stay the last days because there were so many pilgrims walking.
Walking Camino Primitivo is one of the greatest experiances of my life so far. There is something that happens inside when you spend day after day just walking. I definitivly recommend it to anyone who is thinking about trying.
With getting lost a few times we totally walked 393 kilometers in two weeks.
Here are some of the Camino routes available:
Camino Frances – 780 km. This is the best known route that starts in St Jean Pied de Port. Most people take four weeks to walk Camino Frances.
El Norte – Starting point: 825 km. Walk along the northern coatsline of Spain, might be one of the most challenging hikes. Starts in Irun and joins Camino Primitivo in Oviedo.
Finisterre – Pilgrims who choose to extend their walk after Santiago de Compostella can walk to Costa da Morte, surrounded by it's legends and mystery. Also know as the walk to "The end of the World".
Buen Camino!